Rabbit Links
An AWSOME rabbit site!! Great place to get info and chat about rabbits!! Visit RabbitWeb
List of some rabbit breeders. Some Canadian.
Grandview Rabbitry is a great place to buy stuff for your rabbitry. They are Canadian and everything is in Canadian prices. They also ship to the US so it is great place for Americans to find cheep rabbit stuff.
Ranch Links
A whole bunch of ranch links!!
Horse Links
Equichat is a great place to chat about horses!
Saskatchewan Horse Federation, Great place for Saskatchewan horse owners.
Lots and lots of Canadian horse related links at Northern Horse!
A zebra horse cross??? You better check this out!!
This is one of my favorite horse related sites. It is all horse quotes. Very nice!!
Proud to be Canadian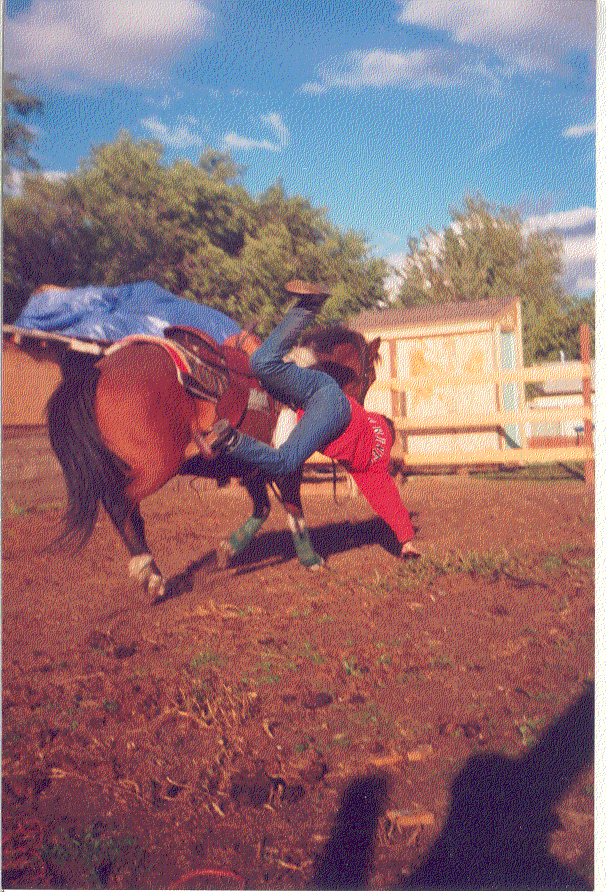 Me falling off my horse before I ever met Russ. I thought you might get a kick out of it.
If anyone out there wants to trade links that would be awsome. I would prefer links to Canadian websites but any website will be considered. Please email me and give me a link to your site and I will check it out. I don't care what it looks like as long as it has something to do with animals, farms or ranches. Thanks a bunch!!! I want to have LOTS on here.